What Does the Future Look Like?
Like so many, the hotel industry was severely impacted by the Covid-19 pandemic. But unlike many other industries, allowing hotel employees to work remotely during the pandemic wasn't entirely the best option. The hotel, leisure and travel industry is dependent on customer-facing employees. Sitting behind a computer and making calls to potential guests just doesn't cut it when no one is traveling.
Remote work was available for some key hotel employees, however working from home was not the best option for many of the millions of hotel employees in the US. Making the situation even worse, out of all the jobs lost during the pandemic, four out of 10 were in the Leisure and Hospitality industry according to Department of Labor national jobs report. There were more people fired or furloughed from their hotel job than kept employed remotely.
Remote Work
According to a study conducted by McKinsey and Company, more than 20 percent of the workforce could work remotely three to five days a week as effectively as they could if working from an office. Compared to industries such as finance, insurance and technical services, the hotel industry rates fairly low for industries that can effectively work remotely.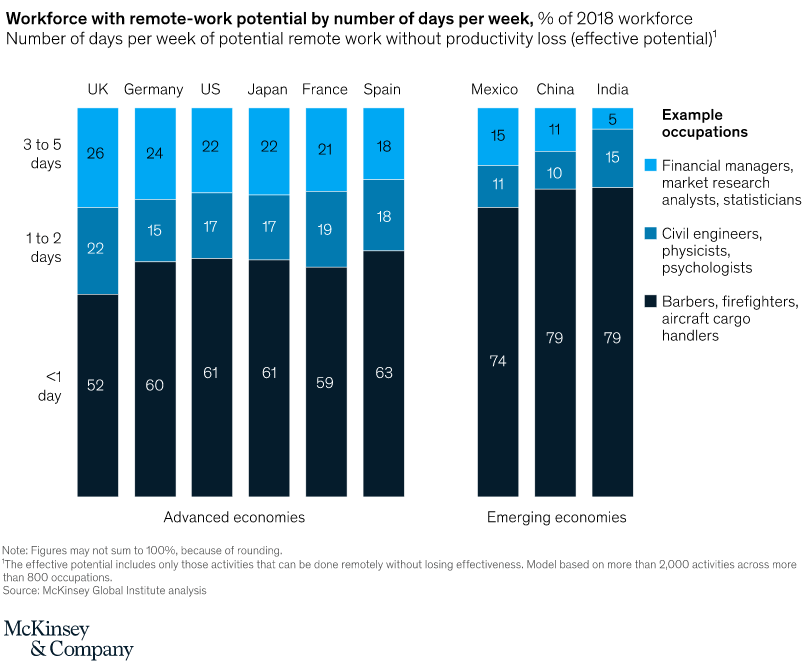 The study found that for the category of Accommodation and Food Services, only eight to nine percent of employees can effectively work remotely with no productivity loss. But the good news is that some remote workers from other industries began using hotel space to perform their job duties. Fortunately, there was an increase in the number of people hired or rehired back into the  industry even before the vaccines became available.
That's because employees from various industries working remotely during the pandemic were finding it difficult to get motivated to work from home. According to Guestline, 55 percent of workers who work remotely (either occasionally or full time) struggle to concentrate in the office for at least half an hour each day. It was found that workers were therefore losing an average of 116 hours of work per year, equating to almost 17 working days, due to a dip in productivity within their working environment.
It seems that the solution was to place employees in an environment that wasn't their home, but also not at their normal work location. Hotels provided the perfect solution for what employees wanted most; quietness, internet speed, comfortability, and facilities such as electrical outlets, seating and printing capabilities. As an example, during the pandemic, Dropbox set up what they called, Dropbox Studios for employees who needed to meet or work together in person when it was safe to do so. This demand led to increase in occupancy, leading to bringing back more hotel employees to handle the workload.
Good News
A US Bureau of Labor Statistics release of the May 2021 employment situation report reveals that the leisure and hospitality industry took the lead for the most monthly job gains, increasing employment in the industry by 280,000 jobs in March. This is in addition to the 355,000 increase in jobs reported for the month of February. The bulk of the increase was in the the food and beverage sector with the accommodations sector adding 40,000 new jobs.
Additionally, at the Hotel Data Conference: Global Edition, the president of Tourism Economics, Adam Sacks, stated that the percentage of households who plan to travel in the next six months has risen from the low 60s to 87 percent over the past month and a half. Depending on location and market, the hotel industry is expected to bring back many remote workers. The ones who may remain working remote include IT employees, reservationists, marketing, and some management positions.
Signs of increase in demand for former and future hotel employees are hitting the news almost daily. Omni Hotel and Resorts, which shut down 40 of its properties during the pandemic, have reopened all but seven. Hilton, which temporarily closed 220 of its properties has reopened 97 percent of its global properties. The American Gaming Association recently reported that 935 of the 989 casinos that were closed during the pandemic have reopened.
When casinos reopen, so must the hotels that support them. The same is true for theme parks. Disneyland and Walt Disney World are gradually returning to full capacity in their parks with Disney World expected to fully reopen by the Fall of 2021.
Remote Control of Hotels is Possible
One of the lessons learned from the pandemic is that it is possible for some hotel workers to work remotely and still serve guests. In fact, the technology, known as cloud-based PMS (Property Management Systems) software, has been around for decades. Guests can do everything from making the reservation to ordering room service through the use of artificial intelligence (AI) and cloud resources.
Using apps, guests can order meals, extend checkout times, and request maintenance or housekeeping services. One example is HotelFriend, but there are many others out there or coming to market very soon. If we encounter another pandemic or long-term emergency situation, it is good to know that this technology is ever-advancing. But of course, people need people. Having a friendly face to speak with is comforting for guests. Sending housekeeping and maintenance employees home to work remotely just won't work.
Hopefully, there won't be a need to shut down hotels again anytime soon. The lessons learned from this most recent crisis, though, are invaluable going forward. We now know which hotel workers can successfully work remotely and which ones are needed on property for guests. Most remote hotel workers will probably be fully back to work at their regular work locations very soon. While those in IT, marketing, reservations, and some management positions, may continue working remotely moving forward.