No one wants to be the bearer of bad news. We have enough of that going around today. But as a business leader in the hospitality industry, you need to know that not only is it very difficult to find good employees, but the ones you have may be resigning. According to a October 2021 US Department of Labor statistics, almost 7% of workers in the US food service and lodging industry quit their job in August, outpacing the 2.9% rate for the rest of the economy. To put it simple, hospitality employees are resigning at record pace.
People Are Leaving
In other words, a record 892,000 accommodation and food-services workers quit their jobs. But it's not just the hospitality industry taking a hit. Phillip Kane in his Inc. Magazine piece, The Great Resignation is Here, and It's Real, found that a survey of over 30,000 workers conducted by Microsoft found that 41% are considering quitting. That number jumps to 54% when Gen Z is considered alone. According to Gallup, 48% of employees are actively searching for new opportunities. Additionally, Persio reported that 38% of those they surveyed planned to make a change or resign in the next six months According to Joblist, "While hospitality workers who reported being very satisfied prior to the pandemic are more likely to still be employed in the industry, they are frequently less satisfied with their jobs than they used to be."

According to those surveyed, 45% of hospitality workers who have remained in the industry report lower job satisfaction now than before the pandemic. Only 9% report higher job satisfaction. Such extreme levels of employee dissatisfaction will likely lead to a wave of resignations in the near future. Joblist study uncovered that 58% of all current hospitality workers say that they're planning to resign from their jobs before the end of 2021.
The Cost of Turnover
The cost of turnover for any business is expensive. A study conducted by Cornell University's School of Hospitality Management found that employee turnover costs hospitality companies an average of $5,864 per employee. With the number of vacancies and the number of current positions being vacated, the costs add up. Based on data gathered from 33 US hotels, the Cornell study also found that the costs of turnover were generally higher for:
Higher complexity jobs
Independent properties
Properties with relatively high room rates
Large properties
High- occupancy properties
Properties in markets with a high cost-of-living index
Properties in markets with a high unemployment rate.
But as was revealed in the Inc. Magazine article, hospitality industry employees are not just resigning for the same reasons of the past. Many are leaving because of stress, burnout and dissatisfaction in the way management treats them. Some are even fearful of coming back to work at their old jobs because of border-line and even illegal treatment by their supervisors.
Many fear how they will be treated based on the incompetence of how their employers handled the Covid situation with layoffs, and cut in pay and/or hours. They felt totally forgotten until the economy reopened. They felt undervalued and unheard. Still others feel it unsafe to go back to their jobs because of the lingering effects of Covid and the fear of Armageddon the media has planted in their brains.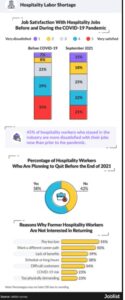 How To Turn It Around
As Kane states in The Great Resignation, the best thing employers can begin doing immediately to reduce resignations is to care. It's really that simple. If people are leaving horrible bosses, (remember, people don't leave jobs, they leave managers), then employers can stop being so horrible. They can begin showing empathy. They can begin caring about their workforce and treating them like the asset mentioned in the company's mission statement.
Hospitality industry employers can begin by being more flexible. As Kane points out, mangers should create environments where associates feel safe and valued. Employees should be more empowered to make their own scheduling choices too. According to Gallup, 75% of the reasons for voluntary employee turnover can be influenced by managers. Whether it's a lack of people skills or an unwillingness to help employees develop, bad managers can run off good employees.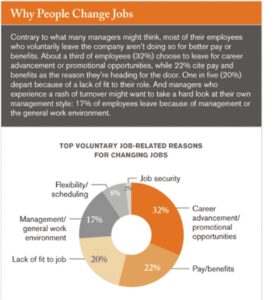 The really smart players are realizing that perks such as ping-pong tables and energy drinks don't keep employees around. An article in Fast Company found that workers would prefer transparency. They don't want a "Us" versus "Them" mentality from their superiors but rather want to be part of a team that contributes to the end result. In order to do that, employees need to know what the end result looks like. They want to know how their job makes an impact for the company.
Here are five things you can begin doing now to curb the record number of resignations:
Hang on to the ones you have–Keeping your good employees requires effort to communicate to them how valued they are. Celebrate and reward their loyalty
Conduct a serious exit interview-Find out why they are leaving. Not all employees will want to give you the time for this. Be sure to offer compensation or a gift card in order to pick their brain to find out why they are leaving. This is valuable information you can use going forward.
Identify the root causes-Explore metrics such as compensation, performance, training opportunities, and pay increases. However, this takes time but you want to try to identify the root causes. A Harvard Business Review article cites the example of a trucking company that found that drivers who had less experience and a remote supervisor were much more likely to resign than more-experienced drivers and those receiving in-person support.
Keep your finger on the pulse-Survey employees to get their feedback on how management is performing. Take the responses seriously and try to understand what actions need to be taken immediately.
Be human-Take coffee breaks with your staff. Remember their birthdays and anniversaries. Reward them for things. Even if the reward isn't costly, the effect goes a long way.
To keep your employees from jumping ship, learn how to communicate with them to uncover their needs and desires. Most of the time all employees really want is that their leaders take the time to honestly communicate. Let them know about what is happening and ask them for their input. It is basically just being human and treating others fairly.
In his best-selling business book, All I Really Need to Know I Learned In Kindergarten, Robert Fulghum gives wise advise that should be adopted for hospitality leaders and mangers. He writes:
"Wisdom was not at the top of the graduate-school mountain, but there in the sandpile at Sunday school. These are the things I learned:
Share everything.
Play fair.
Don't hit people.
Put things back where you found them.
Clean up your own mess.
Don't take things that aren't yours.
Say you're sorry when you hurt somebody.
Wash your hands before you eat.
Flush.
Warm cookies and cold milk are good for you.
Live a balanced life—learn some and think some and draw and paint and sing and dance and play and work every day some.
Take a nap every afternoon.
When you go out to into the world, watch out for traffic, hold hands, and stick together."