Tis the season for gift giving through generosity and random acts of kindness. Historically, the end of the year, with Christmas and Hanukkah and other holidays upon us, is the time that people exchange gifts and contribute to charities. Of course, some people do this year-round, but with cooler temperatures, uplifting music, and tear-jerking movies to motivate us, we tend to be nicer this time of year.
How to Give
Giving gifts to customers is simply good business. It is showing your appreciation for their loyalty throughout the year. The gifts you give sends a message to your customers that you thank them for their support of your business. Whether it is repeat visits to your restaurant or hotel, or that they send others to your business, it does not go unnoticed.
When giving gifts to customers, consider the following tips:
Put thought into the gift – Consider what you've learned about these valuable customers and put some thought into what you think they like. If you've noticed your customers chatting a lot about skiing, consider tickets to a ski resort. If they mentioned they love a particular kind of music, get them tickets to an upcoming concert. Make it personal for them.
Avoid the brand – Save your promotional items for sending to your prospects. A gift should be heartfelt and have some meaning to the receiver. Your customer already knows it is from you. You don't have to use the season for marketing your business.
Put up some money – In addition to putting some thought into the gift, put in some extra cash as well. Don't be stingy. Pay the little extra it takes to make your customer happy. They will remember you, and your business, even more.
Be mindful of the holidays – If you celebrate Christmas, don't assume that your customers do as well. Hopefully if it is a loyal customer, you already know if they celebrate a particular holiday or not. If you are not sure, simply give a gift with the message that you appreciate their loyalty. (By the way, you don't have to wait until this time of year to send your customers gifts!)
Ideas for gifts – If you don't know much about the personal life of your customers, consider giving a donation to a charity in their name; gift cards to other (non-competing) businesses; food platter; or a succulent plant. You can brainstorm more ideas. Just make sure you avoid branding and don't be cheap.
In-House Giving
Giving gifts to employees or job candidates is a little different. Most people don't need a tutorial on how to give gifts. But in today's everything-is-offensive and sue-happy world, we have to be careful on how and when we give. The etiquette of giving isn't really that complicated. It's the company policies regarding gifts, both written and unspoken, that we should all be careful of.
If you are giving gifts to your job candidates or employees, make sure you give them in the right manner. Giving perfumes or flowers may have romantic overtones and send the wrong message. Be careful not to violate any sexual harassment laws. And when participating in a White Elephant party, be mindful of gag gifts that may appear harmful or offensive to others. These kinds of parties can be fun and help company team members relax and let their hair down, but don't overdo them.
Superiors should be careful about accepting gifts from subordinates. Even though it is just a nice person giving a gift to another nice person, the perception may be wrong. It could be seen as accepting a gift because of an upcoming performance review or a recent raise or promotion. Also, religious gifts should generally be avoided. It may cause discomfort for some and can even be considered a form of discrimination by others.
Having policies in place will help to clarify in-house gift giving. If you don't already have something outlined, consider adopting policies such as these:
Define what gift giving is allowed or prohibited
State from whom company employees may accept a gift
Outline the circumstances under which an employee may accept a gift either from other employees or customers
Offer guidance about what is and isn't appropriate to accept as a gift
Other policies may be needed as issues arise, but you get the point. Company policies on gift giving can kill the holiday spirit. But when explained in the right format, they just make it easier on everyone when we get to this time of year.
Gifting for the Right Reasons
Survey Monkey sent out a survey to 500 members of its audience and found that there isn't a lot of gift giving going on for customers. While not scientific research, the results are surprising. But gifts give returns. A Seattle-based company known as Knack, which specializes in corporate gift-giving, has done the research.  They surveyed 1,000 professionals who received gifts from vendors or partners and found that 94% of high-level executives were positively impacted by a personal gift, because it enhanced an existing relationship.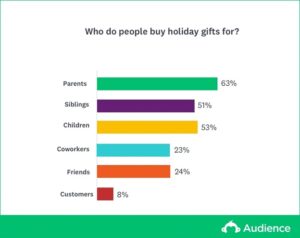 But when it is obvious that you are giving gifts in order to receive a return on your investment, people can be negatively impacted. Instead, think of gift giving as an art. In order to improve your craft, you have to study the subject. Decide what will make the receiver of the gift happy. What will make them smile? What will have the greatest impact on their life?
This takes effort but is well worth it—not because of the customer loyalty but because of the joy you see on their face and hear in their voice. Bottom line: be respectful, give from the heart, and as stated in this SHRM article, make sure it is something your mom would approve. This should be a joyous time of celebration with friends and family. It should a time of year when you can send "Thank You" gifts to both your customers and team members. You can still do these things. Just be cautious of what and how you give. The gift recipient and sender should both receive joy from the event. Whatever you do, take the time to enjoy the holiday season and remember those who meant a lot to you throughout the year.
Gecko Hospitality can help assist with more of your job-related needs. Reach out to us today!