Dining out used to be a relaxing experience. In fact, not too long ago, it was considered a luxury. Load the family in the car and head to your favorite eating establishment and a night of fun. But just like so many other things in life, Covid changed that. To dine out in some places now requires proof of vaccination. This barrier to enjoying the dining experience is causing stress on patrons and restaurant employees alike.
The Jab is the New Cover Charge
Many European nations and some cities in the US are requiring proof of the Covid-19 vaccination before they can enter a bar or restaurant. In places like San Francisco, Los Angeles, New York and Seattle, restaurants and bars are required to see proof of vaccination. Managers are typically stuck with enforcing the mandate, but during rush hours, they may hand over the responsibility to the hostess or a server.
Many other states are requiring the same. These include:
Philadelphia – Vaccine cards will be required to enter any establishment where food is served indoor, including dine-in movie theaters, sporting venues, bowling alleys, bars and casinos
Chicago – requires anyone age five and older to provide proof of full vaccination before they can dine indoors
New Orleans – Requires proof of vaccination or a negative coronavirus test to enter an indoor bar or restaurant
Washington D.C. – Customers ages 12 and older must have received at least one dose of a coronavirus vaccine to dine inside a restaurant
Boston – Patrons have to show they've been vaccinated in order to enter indoor spaces like restaurants, bars, movie theaters, museums and sports stadiums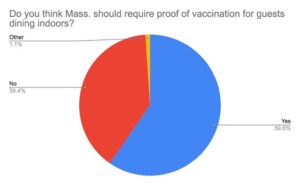 (Poll of Boston residents)
More cities are expected to follow suit
Unfortunately, city and county officials require the mandates, but they don't provide much in the way of how to enforce them. When the mandates were announced, many restaurants didn't even know they had to enforce it. Many of them that have not complied have been charged fines up to $5,000 per violation.
The Alcoholic Beverage Regulation Administration  (ABRA) is the government agency that enforces the mandate among liquor-licensed establishments. They state that their focus is on education before punishment, but many restaurants and bars still struggle with how to enforce the mandates. Restaurant managers are receiving the blunt of frustration from customers who have refused the vaccination for various reasons.
Some managers are forced to choose between increasing an already diluted customer base and the possibility of facing steep fines or harsher punishment including license suspension and imprisonment. The ABRA has also been handing out verbal warnings to those restaurants in Washington D.C. who do not enforce its mask wearing mandate.

Managers As Enforcers
The various cities that come up with these strict mandates do not provide much in the way of assistance or training to managers on enforcement. But if the restaurant is audited and found to not be in compliance with the mandate, the restaurant is fined. The manager could also receive punishment for non-compliance.
Requiring customers to show a vaccination card is one way to gauge compliance, but according to the Society for Human Resources Management (SHRM), counterfeit vaccination cards are widely available. So how does a manager or restaurant employee tell the difference? Is it their responsibility to authenticate the proof of vaccination?
Even the US Department of Labor Occupational Safety and Health Administration (OSHA), does not provide guidance in its Guidelines on Preparing Workplaces for COVID-19. And at this writing, no state or city has come up with guidelines or training on how to determine if a customer has been vaccinated. Conversely, there are multiple training opportunities through local government agencies for servers and bartenders to know how to determine if a customer is under the legal drinking age.
The National Restaurant Association has come up with a checklist of sorts that includes questions for restaurant managers to answer:
Have you established what the acceptable proof of vaccination is with those who will be checking?
Will you need the actual cards or will copies or photos on phones work?
Have you determined who on your staff will enforce vaccination requirements at your restaurant?
Do you have candidates for each shift? How will management be involved?
Will you require employees and customers to wear masks indoors despite proof of vaccination?
Will you provide complimentary masks for those who don't have them?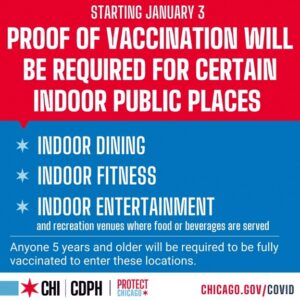 At least a checklist can be helpful in providing direction for managers stuck with the added task of enforcing federal, state, and city mandates. But it is not enough.
Enforcement Tips
One of the hardest hit industries during the pandemic was the hospitality industry. Hotels and restaurants are still struggling to not only find workers, but to attract customers again. Policing customers just adds another stressor to the plate.
To help you comply with the mandates, here are a few tips you can adopt to at least help you avoid fines and penalties and to keep your doors open.
Confronting customers – The vaccine mandates has the entire country in an uproar. The unvaccinated feel that they have a right to make decisions for their own bodies while some of the vaccinated hope the unvaccinated get the virus. The word vaccine now creates arguments and undue stress. One of the things you can do as a manager is post signs outside of your establishment stating that you are required to check for proof of vaccine before serving a customer.
Know upfront that you will encounter angry customers. The best you can do is put the blame on the government. Also, add to the restaurant's phone recording a message to advise anyone wishing to come to your restaurant must be checked for proof of vaccination.
Know what to look for – The National Restaurant Association says that you should find out what your area requires as proof of vaccine. Most places require a vaccine card or photo of it, (Chicago requires additional ID.) "There is also a WHO card that several jurisdictions say is acceptable. Proof of vaccination outside the US can be an official immunization record that includes the individual's full name, date of birth, vaccine product name (ex: AstraZeneca/SK Bioscience), the date, country and site where it was administered, and the name of the person who administered it."
Be careful of what is considered "outdoor"– Some establishments have tried to circumvent the mandate by allowing patrons to eat outdoor, avoiding the requirement for proof of vaccine. However, some building codes have determined what makes it really "outdoor." Structures put up by the restaurant typically qualify as indoor spaces. For example, a patio area that has walls on three sides doesn't qualify as an outdoor space. Be sure to check with your local building department before calling something outdoor.
Consider offering more deliveries or pickup orders – Currently, you do not have to seek proof of vaccination for customers just coming in to pick up an order. To increase business, offer more takeout or delivery specials. You may encounter customers who claim to have medical exemptions to the vaccine. Determining if this is true goes way above what should be expected of you. You don't want to violate any ADA (Americans with Disabilities Act) guidelines. Place the blame on your local government and offer them a takeout order instead. Let them know that people with more authority than you will shut you down if you allow them to eat in the restaurant without proof of vaccination.
Try to de-escalate bad situations – In many areas across the US, customers are becoming irate and even violent toward restaurant mangers. Even though you would rather spend your energy on your business, take every opportunity to try to de-escalate bad situations. Offer discounted takeout orders, discount coupons for delivery orders or anything to appease the customer. If things get too far out of hand, call your local law enforcement agency.
Support your employees – A recent study from the New York State Restaurant Association found that more than 90% of restaurants have customer-facing challenges; 75% are having challenges with staff because of the vaccine mandates. And New York isn't alone. Unfortunately, someone has to enforce the mandate. If you assign an employee to do it, make sure you provide them with your full support and back them up.
Train them on how to first greet the customer before asking, "I need to see your vaccination card." Also, have a plan in place for your employees in case things get out of hand. Train them on how to de-escalate a bad situation and who to contact first if they encounter a difficult customer.