We would like you to stretch your imagination for a moment and consider the concept of traveling managers: hiring professional hospitality managers who travel to your restaurants or hotels to provide their leadership and skill.
One of the greatest thinkers of all time, Albert Einstein, once said, "Imagination is more important than knowledge. Knowledge is limited. Imagination encircles the world."
This is an unorthodox idea. In fact, a quick internet search for traveling managers doesn't reveal much about the concept, but it doesn't mean it won't work.
We're talking experienced hospitality managers who travel to your locations to provide the management you need for your hotel property or restaurant. You don't have to train them, keep regular employee records, or provide employee benefits!
Why Traveling Managers?
Replacing hospitality management professionals due to turnover can be a costly event. Research from the Cornell School of Hospitality reveals that replacing an employee can cost around $5,700, but for an employee with a high-complexity job like a general manager, it can cost $10,000 in lost productivity alone from vetting, interviewing and other hiring costs.
Think about this for a second, a traveling hospitality manager, screened and hired by a professional recruiting firm, can fill the gap of a manager who has vacated their post. And terminated managers, whether voluntarily or involuntarily, in the hotel and restaurant business is a frequent occurrence. According to Black Box Intelligence, 35% of restaurant managers quit in their first year on the job.
The survey results also reveal that general managers, within the hospitality industry, are suffering from poor work-life balance. Only 11% of hotel GMs strongly agree that their job allows them to spend enough quality time with family and friends. Becoming a traveling manager may be an option that suits them.
Seasonal Needs
Just as traveling nurses was the result of filling voids in places like Arizona and Florida when there was a substantial jump in patients during the winter months, hotels and restaurants also experience peak phases.
There are peaks and valleys and these hospitality businesses must adjust to these in the same way the medical industry adjusts by utilizing traveling nurses. Traveling managers can fill the gaps in hotels and restaurants, saving these businesses both time and money.
Travel for Work Concept
The traveling manager concept isn't new, but also isn't as common as it probably should be. Metz Culinary Management is one that hires for traveling restaurant managers. A recent advertisement on Indeed seeks "Traveling GM/Operations Food Service Manager."
In fact, there are over 50 similar ads currently listed. Most of them are for a qualified manager to fill in only at a particular brand's properties. But we believe the concept of a traveling manager would greatly benefit multiple brands at multiple locations.
Unlike those jobs posted on Indeed, one major difference when it comes to hiring a traveling manager is that instead of advertising on various job boards, the restaurant or hotel would simply contact the recruiting firm and request a manager who is interested in an interim or flexible position .
Traveling Manager = Turn-Key Executive
Travel nurses take on short-term, temporary positions across the nation to fill gaps where nursing shortages exist. And rather than being employed by the healthcare facility, travel nurses use independent staffing agencies to seek and secure positions wherever they desire.
This same concept can be adopted by the hospitality industry. Individual restaurants and hotels can deal directly with a recruiting firm that provides qualified hospitality managers willing to travel. And as with traveling nurses, the staffing agency provides an hourly rate that is higher than what managers traditionally receive.
In addition, the recruiting firm can provide:
Travel reimbursements including airfare, train tickets, tolls, ferry costs, taxis, gas, and shuttles
Bonuses based on the restaurant's/hotel's needs
Tax-free housing stipends or agency-provided housing
Tax-free per diems
Health insurance
401K
The advantage to the hotels and restaurants is that they don't have to provide employee benefits to the traveling manager or spend time training them. Most can hit the ground running after a brief overview of the restaurant's/hotel's needs and requirements. The recruiting firm pays the manager and provides the benefits.
Another advantage is that the restaurant or hotel doesn't have to keep the manager during low periods. These businesses can request the traveling manager in times of need and at peak times. If the manager doesn't work out, they can send them back to the recruiting firm and request another qualified manager.
Hotel and Restaurant Managers
Traveling hotel and restaurant managers can fill the same need that nurses do for hospitals except now it's for hospitality businesses. Just like with nurses, managers can fill the gap where there are shortages. As with nurses, managers are trained professionals with experience and should be able to take over the manager's role with little orientation or training required.
The process is very simple. Mangers with hospitality experience can apply at these recruiting firms and enjoy a different work experience where they can use their talents and skills. The hotel or restaurant could call up a staffing agency and request a manger with a specific set of skills. The recruiting firm handles all of the necessary paperwork, traveling expenses, salary, etc.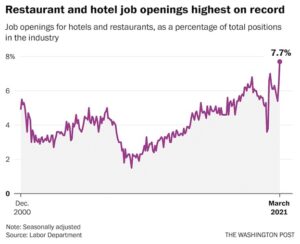 Shake The Trees. Finding Traveling Managers
In 2019, it was reported that the average millennial (ages 21 to 37) planned on taking roughly five trips throughout that year, three of which were expected to be international. Those who put off their dream found their plans crumbled when Covid hit. But now they are chomping at the bit to travel. Wouldn't it be wonderful if they combined their hospitality management skills with their travel desires?
The best hospitality managers know they have an ever-changing job description. These are folks who are used to situations changing without notice. They know to be flexible and ready for anything—-just like nurses. Traveling to offer their expertise at other locations would not necessarily be out of the question for them. Many managers would jump at the chance to be a traveling manager if the opportunity was available.
Isn't the timing ripe for a change? Wouldn't hospitality managers of all ages, not just millennials, consider the option of traveling to a new location? By the way, "new location" doesn't necessarily mean thousands of miles away in another state. It could mean working in another city. This is ideal for a manger who doesn't want to uproot their family and relocate.
Finally, there are at least three major advantages for hiring a traveling hospitality manager:
You get an expert without paying for all the training, benefits, travel, etc.
A traveling manager is less likely to experience burnout. They experience a change of scenery and get the opportunity to make a difference in their new workplace.
A traveling manager is coming into your business with an unbiased perspective. You get the benefit of someone with a fresh outlook who can spot overlooked problems and issues.
Consider All Options
We started this post with a quote of inspiration about being imaginative in your business. Sometimes necessity pushes us to step away from the beaten path for a moment to consider other possibilities. The pandemic and then the closing of the economy are both really great reasons for seeking change—even if the change is outside the norm.
Amit Kalantri once said,"The telephone did not come into existence from the persistent improvement of the postcard." We can't keep doing the same things over and over again and expect different results.
It's time to creatively pursue alternatives. It sure beats struggling to fill needed positions in order to keep the business alive. It is worth taking a chance if only as an experiment toward running a successful operation.