The End of the Norm: Has Covid Created a New Hospitality Workweek?
The Covid-19 pandemic made working from home more common place than ever before. Over the past couple of years, many managers and chefs within the hospitality industry have reported working longer and taking fewer breaks. Many were also signing on at all hours of the day and night. In fact, Bloomberg found that many reported working as much as three additional hours each day.
The result has been a sense of burnout by those within the hospitality industry. Because of this, many companies are now considering revamping their employees' workweek. Some are even experimenting with allowing employees to take Fridays off. But will the concept truly spill over into the hospitality industry as a whole?
According to Nation's Restaurant News, Knead Hospitality + Design is launching the test of a new "4Days@Work" program. Eligible restaurant-level employees would have more work-life flexibility. Their experiment is more of a hybrid of the four-day workweek. Chefs and managers could do administrative work remotely. Then they can focus their time in restaurants on essential face-to-face operations.
Tasks like invoices, scheduling, or ordering for the kitchen can then be done remotely. That can help workers with childcare issues and give employees more control over their time.
The Four-Day Workweek
The 40-hour workweek began with Henry Ford back in the early 1900s. Not much has changed since then. A study conducted in March 2020 of 10,364 full-time employees on the number of days worked found that 5% said they work four days a week, 84% said five days and 11% said six days. But many companies now are looking to make some changes to the standard workweek.
According to a recent Society for Human Resources Management (SHRM) article, the four-day workweek has been proposed before. In 1956, when Richard Nixon was vice president, he predicted a four-day workweek in the "not too distant future." Also, in 1977, President Jimmy Carter urged companies to adopt a four-day workweek to conserve energy during the oil crisis.
And in 1978, the president of the United Auto Workers said that a shorter workweek was absolutely inevitable. That same year, The Washington Post announced, "Ever since the beginning of the 1970s, the four-day workweek has seemed to be just around the corner, but this time it looks for real."
A 2019 study of 500 British business leaders by the Henley Business School at the University of Reading in England, companies that used a four-day workweek schedule saved a total of 92 billion pounds ($120 billion) as operating costs dropped, absenteeism fell and productivity rose.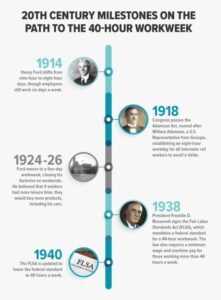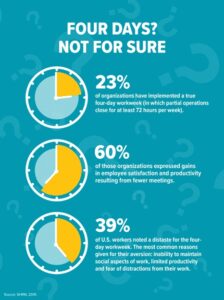 Will Changing the Workweek Work?
A study by Gallup found that when it comes to overall well being, the quality of the work experience has 2.5 to three times the impact of number of days or hours worked. In other words, changing to a four-day workweek won't necessarily improve employee engagement. The work environment must already be such that changing the workweek is just another tool to use to improve efficiency and engagement. Hospitality managers should be measured by output, not hours. Having a work environment that lends to greater productivity is the first step. Shortening the workweek for the benefit of fresher employees after three days off is just a bonus.
Benefits of the Four-Day Workweek
Fewer hours can add the urgency and motivation to get the job done – Historian C. Northcote Parkinson famously said of postwar bureaucracy in 1955: "It is a commonplace observation that work expands so as to fill the time available for its completion."
Incentive to stay with the company – The incentive to look for other jobs where you have to work 25% longer for the same paycheck isn't there.
Reduced costs – Shutting certain parts of the business down one day a week can add savings to the bottom line.
Happier employees – A happy employee is an engaged and more productive employee.
Fewer health claims – That one extra day off can give employees needed rest and down time for recharging and refreshment.
Better recruiting – The four-day workweek can serve as an incentive for others to join your team.
Scheduling – Flexible scheduling in the hospitality industry can alleviate employees getting 'burnt out' resulting in a lower employee turnover rate.
Good for business? If the restaurant, hotel, or casino has enough employees, the four-day workweek could work – and having the right, qualified employees in place can make it work. The key is using a recruiting service that focuses solely on this industry and understands the type of manager needed to fill the position – one that will propel your business forward, not hold it back.
Disadvantages of the Four-Day Workweek
May increase stress for some – Trying to fit the regular 40 hours of work into a four-day workweek might be challenging for some and for those working in restaurants or hotels, events and holidays may happen outside of those 40 hours so a four-day workweek could potentially lead to overtime.
False expectations – The four-day workweek could result in some projects or duties not being accomplished. This can lead to overtime work defeating the whole purpose of the four-day workweek.
Difficulties in scheduling – Changing the days of the week that are worked may lead to difficulties in scheduling which can lead to inefficient workforce management.
Long Hours and Low Pay
The days of long hours and low pay for hospitality industry workers are gone. The pay scale has increased. But are there enough workers to fill the thousands of open positions? A change of pace, like the four-day workweek may be an option worth exploring.
Covid did force all businesses to make changes—some of them drastic. But the hospitality industry has always been able to bob and weave to attract qualified candidates and satisfy customers. Covid just helped speed up the amount of bobbing and weaving needed.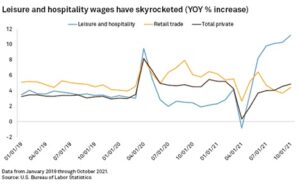 Proposing a four-day workweek is gutsy. It will take a lot of planning and a lot of creative adjusting in order to make it work in our industry. But what the pandemic did give us, was opportunities to consider alternatives. How about a flexible schedule for chefs? Can we consider three days on and two days off for housekeepers? Maybe shift-sharing for servers?
All avenues are open and worth exploring.