Why Accept the New Job?
Many of those who jumped ship in 2020 and 2021 for greener pastures, are finding that their new position isn't what they hoped for. Some of the reasons why the great resignation turned into the great regret is because:
Job seekers don't ask the right questions during an interview process-They are made promises in a Zoom meeting and never really get to understand the company's culture.
Recruiter misrepresented the role or was overly optimistic about the company in an effort to get them to join
Candidates in a hurry-At the time, the shiny new job looks better. Too many took new positions without thinking it through.
The pandemic made it feel like the sky was falling-Quitting a job that was laying off or furloughing people seemed safer at the time. Instead of waiting for the dust to settle, job seekers jumped at anything new or different.
A Harris Poll survey in USA Today  of 2,000 employees who left their jobs for another found that one in five regrets quitting their old job. The same number expressed remorse regarding their new position.
In December 2021, another 4.3 million workers, about 3% of the workforce quit their jobs. Last year, an average of more than 3.98 million workers quit their jobs each month. According to the US Bureau of Labor Statistics, this means that 2021 holds the highest average on record. But are the workers who left happier in their new positions?
According to recent studies, the answer is no. In fact, 70% of people who quit their jobs regret leaving. A survey conducted by the Muse found that out of more than 2,500 respondents, 72% said they've experienced "Shift Shock." Many of those discouraged at their new job see no problem leaving even after a few months. About 80% of millennials and Generation Z workers say it's OK to leave a new job in six months if it's not as advertised.
The Grass Isn't Always Greener
The majority of people quitting their jobs were employees ages 30-35 (21.5%), 35-40 (19.6%) and 40-45 (25.1%). Their reasons for quitting according to a Pew Research Center survey included low pay, a lack of opportunities for advancement and feeling disrespected at work. A large portion of those who quit their jobs say things are either worse or unchanged in areas of concern compared with their last job.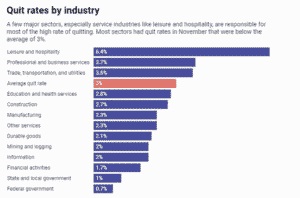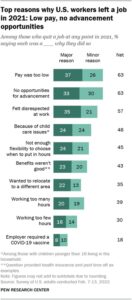 Almost half of the workers who quit a job last year (42%) say they now have better benefits, such as health insurance and paid time off. A similar share (36%) says it's about the same. About one-in-five (22%) now say their current benefits are worse than at their last job.
Steps to Take to Curb the Regret and Another Great Resignation
The findings from the Muse survey suggests this current wave of employees quitting after a short period of time could fuel another Great Resignation. A McKinsey study found that  employees want a renewed and revised sense of purpose in their work. They also want:
Social and interpersonal connections with their colleagues and managers
They want to feel a sense of shared identity
To feel valued by their organizations and managers
Meaningful interactions, not just transactions
Flexible hours
Remember from the Pew Research report, people left their jobs because of  low pay, lack of opportunities for advancement and feeling disrespected. It seems obvious that if we simply offer the opposite of these three, turnover will decrease. Only if it were that simple.
The hospitality industry has always experienced high turnover compared to other industries. Younger employees use hospitality jobs as a springboard to other jobs while they get their education. The concept is understood by most hospitality businesses. But the true challenge is keeping these employees, (the good ones!), as long as possible.
Should I Stay Or Should I Go Now?
All of the surveys tell us that employees want money, recognition, respect, room to grow, and flexibility. It is up to the employer to strive to provide as many of these attributes as possible. None of this matters though if you don't have a good candidate from the start. Using a good recruiter service with a reputation for quality screening is the best way to begin.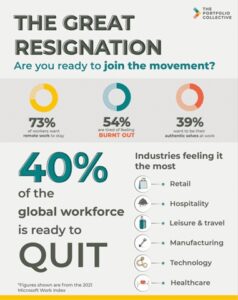 Remove the Toxins!
The smart business leaders know that there is a fine balance between catering to employees and managing a business. The work has to get done. Employees have to be engaged in order to perform well. So how do we run a business and keep our team happy at the same time? Do we have to coddle our employees in order to get the work done?
The most common reason workers quit during the Great Resignation was toxic company culture. However, most of the time, employers don't even know their work environment is toxic. To find out, do the following:
Survey employees-Solicit anonymous feedback from employees about their work environment.
Walk around-Watch from a distance how the work flows in your workplace. Notice any poor management decisions such as belittling or harassing employees.
Offer ongoing management training-Numerous training opportunities are available online from harassment training to improving communication skills. Many of these are affordable and don't take up too much time.
Offer ongoing employee feedback sessions-These can provide valuable information about the condition of the work environment. You're not looking for an hour long bitch session, but constructive feedback from your team members.
Remove the Feeling of Regret
Covid was one of the main causes of the Great Resignation. There is nothing you can do about that now. But going forward, you can prevent good employees from leaving. Keep your finger on the pulse of the work culture by opening all lines of communication. Being open to using the latest technology for scheduling and offering flexible hours is another strategy. The good news about regret is there may be another influx of quality employees available. Be ready. Let them see they made the right decision when you hire them.