Less people are enrolling in college today. In fact, more than one million fewer students are enrolled in college now than before the pandemic. And they are not just postponing their education. According to the National Student Clearinghouse, of the 2020 high school graduates who chose not to go to college, only 2% ended up enrolling a year later.
But the decline in enrollment is also affecting hospitality programs. A recent McKinsey report found that as of January 2021, the COVID-19 crisis had wiped out millions of low-wage jobs in the US. These were predominantly in sectors such as hospitality, education, food services, and manufacturing. But since the easing of the pandemic restrictions, there's been a sharp increase in openings in these same sectors.
Incentives to fill these positions include higher wages and some other creative perks. But still the struggle for filling positions in the hospitality industry continues. Unfortunately, the industry has struggled with a public relations problem. Long hours, low pay and demanding guests. This is one of the reasons US colleges and universities can expect a one- or two-year decline in hospitality and tourism enrollment.
Show Me The Money!
Many people are postponing further education in lieu of going directly into the workforce. Research shows that getting even some post-secondary education leads to higher wages and job security. But that hasn't pushed up the rate of enrollment for hospitality education. One of the reasons cited is that tuitions can be expensive. In addition, federal financial aid for these "career colleges" has tightened since 2014.
Also, wages at the bottom of the economy have increased dramatically. This makes traditional minimum-wage jobs especially appealing to young people as an alternative to college. According to the Bureau of Labor Statistics, jobs for non-managers working in leisure and hospitality paid 15% more than one year ago. Therefore, the incentive to go to school isn't there—yet.
School Can Be Confusing
A recent eye-opening study was conducted by the International Journal of Business in Sports, Tourism & Hospitality Management. It found that there are at least two constraints preventing potential students from pursuing an education in hospitality. They include:
The absence of information about the career opportunities offered by the hospitality and tourism management field.
The misinterpretation of profession caused by the name of major.
This is why it's important to form a clearer picture about the career paths available for potential students. Schools need to create a direct link between the name of the program and the profession it represents.
Encourage a Culture of Education
The hospitality service industry isn't going away. It will always need qualified, skilled workers to make industry businesses successful. To help improve your business, consider the following ways to persuade your staff to get an education in hospitality.
Schedule educational training-Make it a point to provide time for your team members to attend classes. In today's post-pandemic world, most of the classes are online and should not interrupt the workflow of the business.
Offer educational reimbursement-Offering a percentage (or 100%) reimbursement of educational classes takes the burden off the employee. It provides incentive for them to go to school.
Communicate upward mobility-Another incentive is to show employees how their education can give them a boost up the ladder in the organization. Also, offer bonuses or raises for milestones they reach in their educational program.
Offer a development stipend-Provide a certain stipend amount and allow employees to choose their educational path. This shows that the organization is willing to invest in their learning.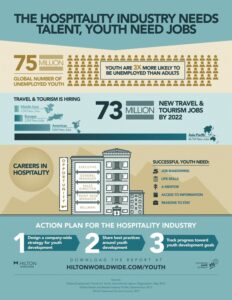 Providing avenues for team members to improve their education and skills benefits them and the organization. Finding qualified candidates with an eagerness to learn is the first step in this process.
The Rise of Community Colleges for Culinary Training
The cost to attend a prestigious culinary school like the Culinary Institute of American can run over $20,000 per semester. But students can get a great education at a community college for around $6,500 for a certificate. It's only $14,000 for an associate degree. And in today's talent-shortage environment, job placement after graduation is 100%. The community colleges offering culinary educations might not have big names, but they are  better matched to the current economy.
Many of the big-named culinary schools are closing. In fact, even before Covid, Le Cordon Bleu closed all of its schools in the US. Because of lack of interest and the cost of running a school, many others have closed as well. These include the New England Culinary Institute, the International Culinary Center, and Johnson & Wales University.
But community colleges are picking up what the big boys left behind. Students are getting a quality education and job placement. And the hospitality industry is receiving qualified candidates who can hit the ground running. As a bonus, students are beginning their career without the anchor of big debts.
It Doesn't Always Have to be a University
The good news is that many employers are looking beyond college degrees. They are seeing the almost 71 million Americans who may have the skills to thrive. Although the hospitality industry school programs may be in a slump, employees can still get a good education.
Obviously the educational system has changed. The pandemic accelerated technology adoption and enabled students to get firsthand experience of the benefits. Utilizing Zoom classes and online training is the new norm.
Ultimately, the goal of hospitality education is to enable future decision-makers to adopt a productive perspective. It is to help them make a positive impact on their sector and their respective organizations. But students don't have to sit in a physical classroom. Online classes, seminars, mentorships, job shadowing and more can provide the end result.
Education Benefits Everyone
We all want qualified candidates who know what they are doing. Attending hospitality courses can help provide that. If the job candidate is educated, it benefits them and the businesses. We are moving beyond blaming the pandemic on lack of good job candidates. In fact, statistics show that the average hours worked by hospitality employees is getting back to normal.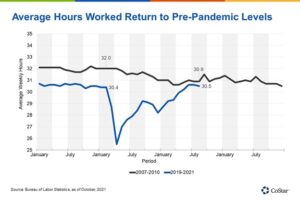 Taking advantage of the improving job market and supporting higher education is just smart business. There were many employees who were enrolled in a hospitality program but had to quit because of job loss. In today's environment, it is wise to encourage employees to continue their education. Using education as a sign-on bonus will attract candidates with a desire to excel. These are the keeper-candidates we would all love to have.