Golf courses are always looking for innovative ways to attract new golfers. They want to help grow the game and bring in new business. But traditional marketing and branding doesn't bring in the masses. It takes innovative and creative strategies to lure in the golf purists as well as the novices to golf.
The new paths golf course managers are taking to create better and lasting experiences is worth understanding. These tips can help us all to think outside the norm when it comes to marketing our businesses.
What is the Best Golf Course You've Every Played?
There are good golf courses, really good golf courses and great golf courses. But when you ask a golfer what is the best golf course they ever played, they might not answer with the truth. That's because it's not just the course, but the golf experience they remember. They may think it was the course and the challenging water holes, but it was a summation of the entire experience.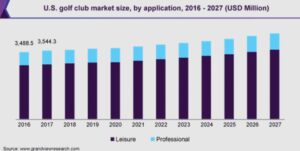 For many years now, the state of the golf industry was heading south. The Covid pandemic didn't help matters. Many other factors played a role in turning people away from golf. These include the course fees, cost of equipment, and the fall of heroes like Tiger Woods. After steep rate discounts didn't work, some golf course owners sold properties to condo developers.
A Golfer Experience Study conducted by the USGA found that overall customer satisfaction with golf courses was at 69%. This rate is in line with experiences with the federal government and airlines! And it is below the satisfaction level of industries like hotels (75%) and full-service restaurants (82%). But some of the creative companies have found ways to make golf an exciting adventure.
Golf Can Be a Money-Making Machine
Running and managing a golf course costs a lot of money. Keeping the grounds in great shape and maintaining golfing equipment isn't cheap. Then there is the expense of employees salaries, benefits, property insurance, and more.
If golf courses and resorts can attract people, they can make a profit. The most common income streams are green fees, membership fees, pro shop sales, and food and beverage sales. Several golf clubs offer special packages for midweek, weekend, or senior golfers to boost their membership numbers. The purpose of these packages is to draw people to the course during its slowest times.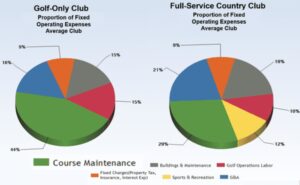 Creating Extraordinary Experiences
The key to getting more than the traditional greens fees and membership dues, golf course managers are turning to tech. This is because there is currently a new wave of interest in golf from millennials. Roughly 60% of respondents to a study said golf has become more important to them within the past year. As millennials turn the corner into the 30 and 40 age bracket, Gen Zs (now in their 20s), are also taking an interest in golf.
So how can golf courses take advantage of this new wave of interest to attract new golfers and create more business? Some of the tried and true strategies still work such as:
Offering special golf packages-Frequent golfers would love to take advantage of any price reduction specials.
Branded merchandise-This makes the golfer feel a part of the community. All the cool kids are wearing the Dubsdread Golf Course polos now.
Loyalty Programs-Giving special consideration to those that play frequently is good business. It is easier to keep the regular player than to attract others. Specials such as free lunch or drink specials works great.
Great avenue for advertising-With all the advertising space, a golf course offers another stream of income for the facility. Players and local businesses would love for others to see their ads on menus, at the tee box, and in the clubhouse.
E-commerce-This is an avenue golf courses haven't used to its fullest yet. Having an e-commerce presence makes it easy for prospects to check out the course as well as merchandise. Providing a way for golfers to book online is also beneficial.
Sidebars-In addition, on-course refreshments, golf lessons, tournament sponsorships have been the staples for many golf courses in the past.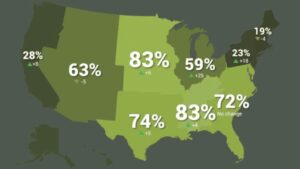 Golfnow.com
According to the National Golf Foundation, since the ending of the pandemic, a surprising number of golf courses, 58%,  are now open.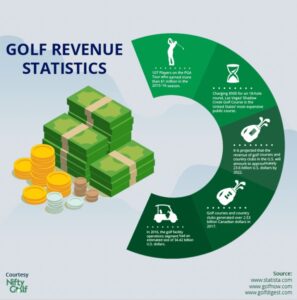 The New and Improved Way
The old ways for making money still exist for golf courses. These form the foundation for profits and maintaining the integrity of the course. Today, combining technology with golf is what brings people to the courses. This is how both Drive Shack and Top Golf have become so successful. The concept is simple: analytics are added to golf balls and players hits or drives are recorded. It is similar to bowling in that the golfers can compete against one another. Players are kept in climate-controlled hitting bays where they can also order food and drinks.
The popularity of, and the attraction to, Top Golf and Drive Shack is the technology. Combining the enjoyment of a sport invented in the 15th century with today's technology is the key for maintaining a successful golf operation. Here are some ideas to consider:
Automatic mobile checkin-Create an app for curbside checkin so golfers don't have to come into the clubhouse. They can announce their arrival and pay fees through the app.
Membership subscriptions– Millennials love subscriptions. They love subscribing to Netflix, Amazon and Costco. Many would prefer a subscription to their golf course.
Develop a POS for the restaurant-Self-serve and paying a machine rather than a server is the thing today.
Give golfers private club status-But only for a day or two. Allow them to experience what it is like to belong to a private club. This may entice them to become a member.
Consider something other than nine and 18 holes-Millennials and Gen Z folks typically don't have the time to spend a half day on the course. Offer rates for holes one through four or maybe the last three holes.
Offer interactive choices-Something similar to com where players can play one another online. This is a great way to introduce others to the world of golf. Placing an advertisement on there or a booking site like Golfnow.com is a great way to gain exposure.
Personalize communication-Generic messages don't work. Sending out personalized notices to today's golfers keeps them in the loop of your offerings.
More-Offering what your ideal clients want will bring them back. Consider offering craft beer, allowing music on the course, and getting rid of the formal attire rule.
Dig Deep to Develop a Difference
Golf is a business and still needs to bring in customers like any other business. The difference from other businesses is that there is so much room for marketing experimentation. The choices for branding and advertising are endless for target-marketing to seniors, millennials and Gen Zs.
Dr. Benjamin Rush once said, "Golf is an exercise which is much used by a gentleman in Scotland……A man would live 10 years the longer for using this exercise once or twice a week." People still golf for the exercise and relaxation, but more and more are golfing for entertainment. They are doing it for the experience of it.
The challenge is that defining a "golf experience" is tricky because personal preferences vary widely. Adopting strategies to touch all generations is the goal. Finding the hot buttons that brings out all the masses to the course is the real challenge. Dig deep and break out all the stops to attract a more diverse clientele looking for wonderful experiences.