Gecko Giving Back: The Ronald McDonald House Charities Challenge
The Ronald McDonald House Charities (RMHC) helps to provide stability and vital resources to families around the world. Since 1974, RMHC has positively impacted millions of families by alleviating some financial burdens for families with sick children. RMHC has over 685 programs in 60 countries and regions. In fact, 90% of the top children's hospitals around the world are home to at least one RMHC core program.
It Starts with a House
The core program of RMHC is the Ronald McDonald House. These are homes strategically located near children's and specialty hospitals where children are cared for. The concept behind the homes is that families should not have to worry about being far away from their sick child. The home houses and feeds the entire family while they are waiting to take their child home.
As the RMHC organization states it, "Families can stay together, rest and recharge to remain strong for their child. They can interact with other families, enjoy home-cooked meals and receive compassionate hospitality from staff and volunteers. And all of this just minutes from the hospital where their child is receiving care."
But an enormous endeavor like this requires help from others. Volunteers have been the lifeblood of RMHC since its inception. In 2020 alone, over 74,000 volunteers dedicated their time and talent around the world. This allowed RMHC Chapters to direct more donation dollars to other areas of programming that support families and children.
Giving Back to the Community
Gecko Hospitality is very proud to support Ronald McDonald House Charities. Every year, Gecko Hospitality takes part in the RMHC "Take Them a Meal" program. The company also challenges the rest of the organization to do the same. Gecko Hospitality recognizes that the opportunities for serving children and families in need are enormous. One good way to get involved is by creating a company team to go and serve at a RMHC event. Gecko Hospitality recommends that each franchise partner or recruiter create their own team for this worthy cause. They can go and serve a meal at their local Ronald McDonald House for the families who are staying there.
This year was Gecko Hospitality's sixth year participating as a company. The corporate team goes up to Tampa Bay and participates at the St Pete East Ronald McDonald House. This year the company cooked an Italian feast for the families. The meal included chicken and eggplant parmesan with homemade sauces, Italian and Caesar salads, homemade garlic bread and homemade cannoli's. The number of people fed varies from year to year, depending on the size of the house. But there is usually between 50-150 families served by each team.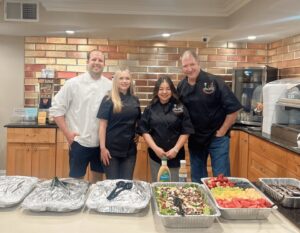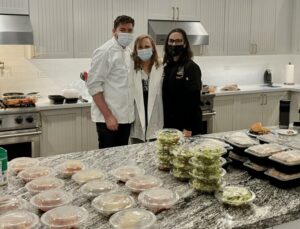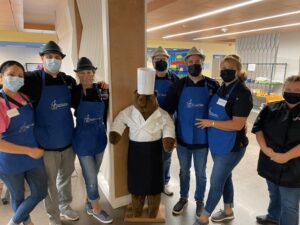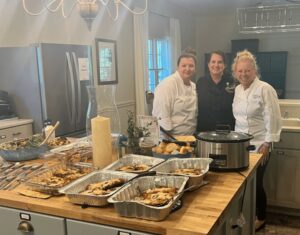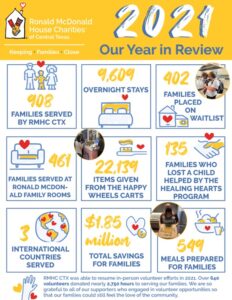 But It's More Than a House!
Giving money to various charities is a good thing that many businesses do on a regular basis. But actually rolling up one's sleeves and serving meals can be so rewarding. Plus, to know that you are giving to an organization that does so much for families with sick children. In addition to the Ronald McDonald House, additional services include:
The Ronald McDonald Family Rooms-Centers for rest and regrouping within the hospital.
Enhancing the hospital experience-Making what is a difficult time a little more bearable for the child and family.
Ronald McDonald Care Mobiles-40-foot-long vehicles built to deliver pediatric health-care services to kids in need all over the world.
Improving the family's coping skills-Assisting with family cohesion as well as the child's recovery and outcomes.
Nutritious meal programs-These fill a gap experienced by many House and Family Room guests.
Education programs-Providing needed lessons for outpatients and siblings who are missing school.
Peer support-Including sibling resources and activities to enhance each family's experience at many Houses and Family Rooms.
Clinical service providers-To provide medical and dental care in vulnerable communities.
Alleviating stressors-Assisting with travel arrangements and finding accommodations for families that travel long distances.
Anyone Can Learn How to Help
As with many charitable opportunities, it can be difficult to find out how to volunteer time and money. Taking steps like Gecko Hospitality did by simply finding a Ronald McDonald House in your area is a great start. To find one, go to the "Find a Chapter" page on the RMHC website. The organizers for each chapter are very helpful and knowledgeable and can show you the steps you need to take. The RMHC is always looking for Hospital Family Room volunteers. This is where you can welcome families and assist them with accessing emails and provide snacks and refreshments for them.
There is also the RMHC Freezer Friends where you can provide frozen casseroles for the families to eat during their stay. Volunteers can also participate in providing a Guest Chef for the Ronald McDonald House. Or, businesses can put together a team like Gecko did and make it a rewarding day for everyone involved. Volunteers serve wonderful food for families going through a tough time while enjoying the satisfaction of showing love to others.