Marketing and advertising is the cornerstone of every hospitality business. Playing no small role in marketing endeavors is hospitality branding. Hospitality branding is more than a company logo on stationary, signage, menus and even napkins. It's also more than the name of your company. Branding is creating an identity that speaks to who you are. It is made up of the company's values, how you communicate your product, and what you want people to feel.
Good branding builds credibility. Not that we needed confirmation, but research reveals that people prefer to associate with hospitality businesses with a credible brand. People find comfort and security in staying at a hotel that has a name it can trust. They will eat at restaurants that has a name that stands for quality, good tasting food. Essentially, your brand identity is the personality of your business and a promise to your customers.
The Benefits of Good Branding
Practicing good branding is about crafting a personality that amplifies the core elements to your company's DNA. Your hospitality business leaves an impression on your customers. Branding is all about keeping that impression with your customers long after they've left your establishment. Brand identity is the process of shaping that impression. When done right, good branding produces the following benefits:
Builds Trust-Increasing brand loyalty in the hospitality business is a must. Customers want to know they can trust the business they are giving their money to. A good branding strategy will help to gain the trust and respect of clients.
An edge over the competition-Customers prefer to stick with brands they know and trust.
Opens new avenues of revenue-Building on a trusted brand is smart business. Think Starbucks, Coco-Cola, Hyatt, Hilton, and Wynn Resorts. When they open a property or offer a product, people flock to it because of the brand's reputation.
Harnesses the power of storytelling-Whether on the website, social media, commercials or word of mouth, good branding is the base for great storytelling.
Helps guests become advocates-Good branding gives fodder for your guests to become ambassadors for your hospitality business. Online reviews are very helpful, but studies show they only account for 5% of brand conversations. However, 82% of conversations about your business happen face-to-face. Quality branding helps you to influence those face-to-face conversations about your business.
Captures the power of emotions–Research tells us that it is emotions and not logic that drives the purchase decisions of most buyers. Your brand strategy should be to inform your customers and prospects by tickling their emotions. You want them to feel
like visiting your property and experiencing what you have to offer.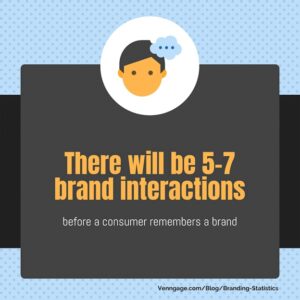 Employee retention-Employees want to stay with a company that has a great reputation. It makes their job easier as well as secure. Customers reward employees through gratuity at hospitality businesses that have a good brand.
How to Stay on Brand
The purpose of branding is to help ensure customers will return again, and even recommend your business to others. Traditional branding options include pillow mints, ink pens, tea, and travel toiletries. Promotional product companies depend on hospitality businesses to continue purchasing these and other branding products. These items do work and are great tools for spreading the message of the brand.
But branding is much more than trinkets. In fact, after the mints are devoured and the pen runs out of ink, the name recognition loses its punch. The focus should be to invest in creating a strong brand that will get and keep people's attention. With the right branding, you have the chance to get some control over how people perceive your business. Here are seven great steps to take to keep your branding efforts building a loyal following:
Establish company pillars-These are the values of the company used in all your marketing and advertising materials. Create pillars that can be set in stone and never deviate from them. These will form the foundation for your branding efforts.
Work from the inside out-Begin with getting all team members on board with your brand. Make them ambassadors for your business. Have contests for creating good branding strategies. After getting buy-in from employees, appoint a team to talk up the business on their social media accounts. Also, use team members as micro-influencers. Micro-influencers are people with a social media following that's larger than a normal person's but smaller than a celebrity's. They can use their following to promote brands relevant to their interests or expertise.

Develop your brand philosophy-Does your hotel offer high-tech booking and check-in? Does it provide for a one-of-a-kind relaxation experience? Does your restaurant have an ambiance that is a throw-back to the Frank Sinatra days? Whatever is unique to your business, use that as your philosophy and build your brand around it.
Create the emotional connection-Begin developing the personal connection with your customers through the use of personal stories and shared experiences. Use testimonies and employee stories where necessary. The goal is to touch the emotions of your customers. Show them how your business will give them the experience that makes them feel something.
Decide on a tagline-This is the line or motto that will go on all your mints, stationary, menus, etc. It's a slogan that states what it is you provide or do that sticks with your customers. Something as simple as Nike's "Just do it!" and Motel's 6, "We'll leave the light on for you."
Be consistent-Consistently share your brand across multiple channels. In order to keep your brand message going, you have to speak it at every opportunity. Use it online, in print, at the establishment, and so on. Use every possible medium to broadcast your branding message. Don't forget to include your tagline in and on everything.

Branding is Always in Flux
Branding isn't what it used to be. The hospitality industry is changing at a faster rate than ever before. Your branding is a unique opportunity to tell a story that matches the way people think today. Your branding should be coherent, recognizable, and relatable. People want to know more about your hospitality business than they used to. Rather than receiving a Koozie with your name on it, they are ever more interested in authenticity and social responsibility. By sharing your story both electronically and in person, you will expand your brand and your customer base.