There is a deep and rich history in this industry of ours. In fact, the concept of hospitality is extremely old and is mentioned in writings dating back to Ancient Greece and Rome. The thought then was that hospitality to strangers was necessary to their religious well-being and in others. Some also believed that being hospitable would satisfy their own superstitious fears. Whatever the reasons, the roots of hospitality run deep.
In the Beginning
Hospitality as a business dates back to 15,000 B.C.. This was the first documented instance of one tribe hosting another at the Lascaux caves in France. The word hospitality comes from the Latin "hospitalitas" which means to receive as a guest. In ancient times, it meant extending a welcome to travelers or offering a home away from home. Eventually evolving to the days of taverns and innkeepers, hospitality is one of the oldest businesses. But it's a business that started as an act of kindness.
In the early days, locals used to let travelers rest on kitchen floors or other extra spaces during their journey. There were no purpose-built resting facilities for tourists until monasteries decided to build one. This eventually gave birth to lodging services and by the 1700s, inns came into being. Proprietors would put up a shelter by the road where travelers could stop to take rest and get some food. They would also take care of traveler's horses while the patrons rested.

The Introduction of Leisure Tourism
But our modern form of the hospitality industry dates back to the early 1800s. This is when the concept of leisure tourism spread across Europe, bringing a multitude of wealthy travelers to Switzerland. During that time, visitors sought natural exposure on guided tours in the Swiss Alps, train rides and "wellness tourism," Elegant hotels, ski resorts, and thermal baths became icons of luxury tourism.
This leisure tourism opened a new world of services like transportation, food and beverages, lodging, travel agencies, entertainment and more. It was this collage of services that eventually become known as the hospitality industry. Business travel began to dominate the industry, but leisure travel became more and more popular. From the early 1900s through the 1950s, disposal income gave rise to a greater desire to travel.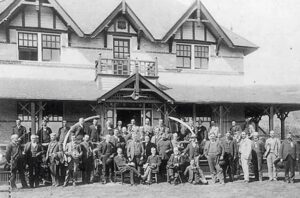 A Time of Luxury and Service
Then came the Golden Age of hospitality. This was between 1960 through 1980 and was where organizational culture and value creation were driven by luxury and service. In post WWII, wealth for many Americans was increasing. This meant more money to spend on luxury goods and travel.
It was a time when Sheraton purchased the St. Regis New York to bulk up its luxury division in 1960. It's also when Isadore Sharp founded the Four Seasons Hotels in 1961. His vision was to found a company on his Golden Rule: "Treat guests the way you wish to be treated." During this period, Ritz Carlton was founded and carved out its own niche in this segment.
The hospitality leaders of this era were experts in customer service and hospitality business operations. London had its Savoy Hotel and New York had Delmonico. These created stellar luxury and service standards. As more properties got into the luxury game, more visitors demanded more luxury. Each property tried to outdo the other in attempts to attract high net worth guests.
The Segmentation of Markets
Through around 1980 and 2000, the hospitality market began to focus on targeting very specific customers. During this time, people like Chip Conley (Joie de Vivre) and Ian Shrager (Morgans Hotels) focused on unique and differentiated offerings. This led to the design-led boutique hotel. During this time period, through some careful maneuvering and creative financing, Barry Sternlicht buys Sheraton.
To segment his properties and laser-focus on a specific customer group, Sternlicht creates W Hotel. He grows the W brand to more than 13,000 rooms globally and almost 8,000 in the development pipeline. The segmentation of markets continues today with boutique hotels spinning off from corporate conglomerates (Hilton, Marriott, Sheraton).
Digitizing of the Hospitality Industry
Finally, from around 1995 to present, digitizing and new technologies are transforming the hospitality industry. In 1996, Microsoft founded Expedia allowing travelers to make room reservations via a computer. Today Expedia and Priceline dominate the reservations market with a 94% share. The industry has come a long way from having to contact the hotel to make reservations. It's now done through companies that even own a hotel property.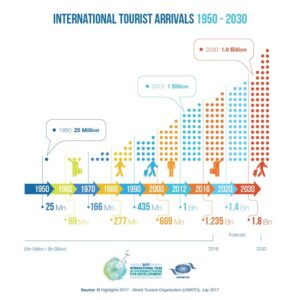 This is about the same time that AirBnB took the concept of couch surfing to a whole new level. These properties, mostly privately owned, attracted millions who wanted the space and privacy short-term rentals provide. Renting a vacation home dates back to the 1950s. But now, sites like VRBO and Booking.com allow users to book vacation rental properties managed by individual owners.
Where We Are Now
Hospitality is now one of the largest and diverse industries in the world. In some countries and states, it is the largest employer with hundreds of millions employees. It has grown and continues to grow by adding new segments of industry support along the way. The hospitality industry has expanded to almost everything that can support the traveler's needs. Today, businesses in the industry can generally be divided into four categories:
Lodging
Food & Beverage
Recreation
Travel & Tourism
Under each of these categories are sub-sectors that also continue to expand. For example, under travel and tourism is Ubers, virtual reality, and space tourism. All categories and sub-sectors are interconnected, but each face their own challenges. But they also open their own world of opportunities.
Improving But Staying the Same
Technology has played an important role in the hospitality and tourism industry over the past decade. It helps reduce costs, enhance operational efficiency, and improve services and customer experience. Technology also facilitates easy connection and communication across borders and continents. It helps the hospitality industry in terms of higher number of bookings and easier communication with the customers.
The hospitality industry has evolved using newer technologies that include:
Voice search and control-Includes everything from using smart speakers in hotel rooms, and allowing for control of the various in-room devices.
Contactless payments-Offers several advantages for hotels, resorts, restaurants, bars, and cafes.
Chatbots-A good chatbot will answer the most common questions without requiring human involvement.
Virtual reality-Gives potential customers a much clearer sense of what they can expect when they visit.
Recognition technology-This is where biometrics is used to for seamless authentications, benefitting hotel processes and customer purchases.
Artificial intelligence-Allows customers to interact with hospitality companies across a variety of digital channels and receive rapid responses.
WiFi 6-The next generation of WiFi technology. It is more than 30% faster while also boasting significantly improved throughput.
Robots-Can occupy a concierge role within hotels, welcoming guests and providing them with important customer information. Can also serve in cleaning roles such as vacuuming floors and germ-killing.
Improvement in roads, cars, trains, and planes makes it easier for travelers to reach their destinations. Additionally, technology has helped to make it easier to book a room, order food, and access other amenities. But the hospitality industry succeeds based on the foundational principles of its origin and not more advanced technologies.
Succeeding in Hospitality
The Princeton definition for hospitality is, "entertainment of guests or strangers without reward or with kind and generous liberality." Many hospitality businesses would not survive today without reward of some kind, but the human-centered philosophy remains the same. Going forward, the challenge for providers will be to keep alive the human touch that has made hospitality establishments successful. At the same time, adapting to and using these new technologies will be crucial in the fight for customers.
In the end, it's not about the tools used to provide the service. It's the product, not the technology, that defines the guest experience. Guests remember not just the standard of service but the extraordinary hospitality that makes them feel welcome and appreciated. Gadgets and gizmos are there to assist in providing continual excellent service. As the hospitality industry continues to evolve, hospitality businesses that succeed will be those that focus on the guest experience.