Everyone knows that good customer service is paramount to success in the hospitality industry. Many businesses in this industry offer good customer service to their patrons. They say "Please" and "Thank you" and "It's my pleasure," but does it make a dent in the company's bottom line? Does it get customers coming back? Does it generate five-star reviews?
Some of the best servers in restaurants and managers of hotels often receive feedback that the dinner was good or their stay was pleasant. What we should be asking after that statement is, "Oh, but was it excellent?" Any company can do good. To really stand out, especially in today's market, we need to offer EXCELLENT service.
Customer Service: Is It Good To Be Excellent?

Providing excellent customer service pays. It's not just bigger tips for servers at a restaurant or the possibility of a repeat customer at a hotel. Great customer service positively affects the company's bottom line.
A survey of almost 2,000 business professionals found that their priority over the next five years is to improve customer service.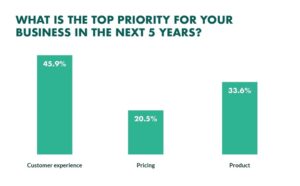 A researcher from Harvard Business School found that just a one-star increase in a restaurant's Yelp rating correlated with a 5-9% increase in revenue. According to the Temkin Group, companies that earn $1 billion annually can expect to earn, on average, an additional $700 million within three years of investing in customer experience. And, PWC research found that 86% of buyers are willing to pay more for a great customer experience.
It's obvious providing excellent customer service should be a priority in our hospitality businesses today. In today's social media led world, people talk. In fact, 72% of customers will share a positive experience with six or more people, according to Esteben Kolsky. However, if a customer is not happy, 13% of them will share their experience with 15 or even more people.
It's time to step up from good to excellent. Here are five strategies for improving your customer service and making it excellent now, and for the long run:
1. Begin at the Top
Too often managers and supervisors preach providing great customer service, then they walk away. They say that customer service is important, but there is no passion in their message. Begin at the top and train all leaders how to bring excellent experiences to the customers. Teach them that it comes from the heart. It has to be backed by passion. Sure, we all fake it till we make it with difficult and challenging customers. But most of the time, the client just wants to be noticed, pampered, cared for, and doted on.
This kind of excellent customer service comes from deep in the bowels of the service provider. It is delivered with passion. It is giving to a customer as if that customer is a family member (assuming it is one you like!)
2. Make Sure Your Staff is Trained
Being nice to people is just the beginning of providing excellent customer service. There are some things your employees won't know coming into your organization. By setting aside time to train your staff and bring them up to speed on the little things, they will begin to pay attention to more and more details. They will need to know what to do when the customer's water glass is half full, when they request a late checkout, or when they need to know where the nearest pharmacy is.
When employees are trained on how to handle the most common requests, complaints, and "emergencies," they will then be able to handle things outside of the norm. They will understand what it takes to think outside standard policies and make quick critical decisions. Training is often overlooked in the hospitality industry because it takes time and money. However, the efforts pay off in the long run. The customers remember their experiences and will reward in kind—either with repeat business, word of mouth advertising, or both.
3. Empower Your People
Training your staff how to provide excellent customer service increases awareness of what needs to be done. But employees will act as robots making decisions within their perceived parameters if they are not given the power to act. To really make customer service initiatives pop you have to empower your team members to act—even if they get it wrong or fail.
It is great that the message to deliver an excellent customer experience is important to the organization. But excellent customer service has to be delivered by the boots on the ground. They are face-to-face with your clientele. They need permission to do what it takes to provide excellent service for the customers.
In his book, Delivering Happiness, Tony Hsieh, then the CEO of Zappos, the online shoe store company, tells the story of Zappos' incredible customer service success. Zappos had a reputation for providing good, quality shoes at great prices, and all online. But the real secret to its success was its excellent customer service.
In the book, Hsieh tells the story of how he and his wife were traveling with another couple to Hawaii. During the flight, Hsieh was bragging about the wonderful customer service his company provides. His friend decided he had enough and after they landed in Hawaii he phoned Zappos and ordered a pizza. The customer service representative explained to Hsieh's friend that Zappos is an online shoe company, but that she would see what she could do. She took his pizza order, room number and the name of the hotel he was staying at.
She ordered him a pizza using her personal credit card and he received the pie within 30 minutes. Hsieh was hesitant about putting this story in the book because he didn't want people calling and ordering anything other than shoes. But he made his point. His employees were so empowered to do whatever was necessary to make the customer happy that this rep went above and beyond.
4. Improve Your Mobile Experience
Invest in professional, quality website. Make every portal to your business excellent. Know that if your website cannot be brought up on a mobile device, your potential customer will go elsewhere. It's been found that on average, 57% of your customers won't recommend a business with a poorly designed website or poorly accessible on a mobile device. Look to the future for improving customer service. Read IT trade journals and pick the brains of your IT people to see what's next in technology. Use this information to stay abreast of where your customers are looking. Learn how to use technology to improve the customer experience.
5. Hire Well the First Time
Getting the right people on board is always a challenge. It is even more so in this topsy-turvy employment environment. But hiring the right way the first time will save you hours of frustration as well as a lot of money. According to Zippia, it costs on average around $4,425 to bring a new hire on board. After they are hired, it typically takes about 12 weeks for them to become fully productive at work. As you can see, that is a lot of time and money to make the wrong hire.
During the screening phase of the hiring process, you will want to ensure you are hiring the kind of person that can add value to your customer service efforts. You want them to be friendly, smile, and to really care about providing excellence during the entire customers service experience.