Holding onto employees has always been an issue for most hospitality businesses. However, restaurants have probably suffered the most from the loss of staff. A survey by the National Restaurant Association reveals that half of all restaurants expects staffing to be their greatest challenge. With staff still leaving in droves, the situation is worsening. Although most businesses are focusing on reducing turnover, in the meantime, how does this affect the customer?
The Impact of Losing Employees
Losing competent staff hits a business hard in many ways. Keeping your brand identity and cultural values intact is difficult. Especially when you have lost integral pieces of your team. The Great Resignation left hospitality businesses with more than just vacant job positions. It left customers wondering if they should still patronize a business that has lost half of its staff.
It's obvious that if there are not enough employees working, the focus on customer service suffers. Previously loyal patrons may find it difficult to continue giving their business to an understaffed restaurant. But there are other reasons why customers aren't going back to a dining establishment. One reason is the shutdowns that kept customers at home with not many restaurant choices available. Another is the embedded thought that the Covid virus is still active in public gatherings.
Although markets are opening up again and less people are infected with the virus, the fear of it lingers on. Some customers are excited about venturing out to their favorite restaurant or watering hole. Unfortunately, others might find it challenging to venture out again. The key as a restaurant operator is to find a way to attract both types of customers.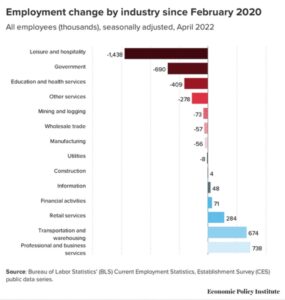 Times They Are A-Changing
After being cooped up for about a year, people are itching to go out again. They want to be normal again, but try new things. Unfortunately, a full return to normal may not be in the cards for the restaurant industry. Many are now interested in buying fresh food and cooking at home.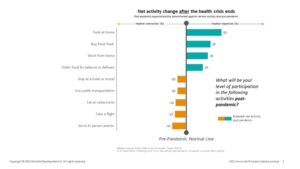 The latest data from Deloitte's Global State of the Consumer Tracker shows that consumers are still reluctant to eat out at a restaurant. But restaurants will likely benefit from an ongoing interest in takeout and delivery. Roughly 40% of respondents say they will use takeout and delivery more than before and during the pandemic.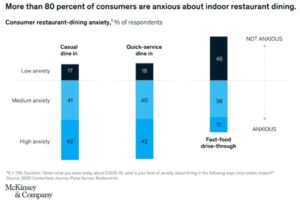 The New Preferences
According to Deloitte, since the 1960's, the share of disposable income spent on food eaten at home shrank steadily each year. This is while food eaten away from home grew until each was essentially tied 50/50 prior to the pandemic. The Deloitte study found that there are three main reasons for this:
New work environment-People are expected to continue working from home past the pandemic. Grabbing a quick bite on the way to the office or lunch with colleagues will not happen. Happy hours tend to cease as well. In addition, expensed hotel and airport meals will go down too.
Economics-About one in three Americans are worried about making upcoming payments. When people come out of the pandemic in worse financial shape, cooking becomes a cheaper option.
Preference-Due to the pandemic, people have gotten better at cooking. Additionally, the services that seamlessly bring groceries to consumer's doors makes it easier to choose healthy food options.
Alternative Revenue Streams
Restaurants will need to get creative focusing on catering to the new consumer's needs and wants. In-house dining may not be as strong as it used to be, but operators can still provide meals for takeout or delivery. Fine dining establishments seem to be reluctant to venture into the takeout space. They fear it will compromise the dining experience. The question becomes how long can a business wait out the consumer drought?
Here are a few things to consider until things get back to some sense of normal:
Creating a delivery service – Allowing your patrons to order the meals they love and have it delivered to their home is smart business. Consumers expect to pay a little additional for the delivery.
Consider selling supplies – Selling groceries to customers is a good way to create another additional stream of income. Restaurant supplies price is already discounted from vendors. Some creative operators have sold meal kits that include chicken salad, toilet paper, paper towels, wine, beer, and other essentials.
Increase transparency – Promote all of the restaurant's attributes like safety, quality and cleanliness. Let people know about willingness to accommodate for food allergies. Toot your horn on any awards received.
Modify menus –  Create a flexible menu that can easily change based on available supplies. Consider streamlining menus selling only your best-selling items.
Embrace technology – Use digital systems to keep track of supplies and orders. Also, make it easy for people to order take-out or delivery through a phone app.
As you can see, now is the time to implement creative and innovative strategies for keeping your business alive and thriving. It will be quite a challenge. But, since things appear to be on the upswing, doing what you can do now to attract customers will pay off in the long run.
Waiting It Out
Change has not been easy for consumers. The lockdowns put many in survival mode, looking to learn how to take care of themselves. Research shows that during the pandemic, bread cookbook sales were up 145%. Countertop appliance sales increased 32% making it easy for consumers to fend for themselves. For many, cooking was therapy and something they enjoyed so changing may be difficult for them.
Nevertheless, the psychological scars of the pandemic still remain. Some consumers prefer to avoid crowded spaces. When they want restaurant food, they might order it for delivery. This fear will blow over as masks mandates are removed and more people are testing negative for Covid. Until then, it is a waiting game. Using this time to perfect menus, employee training, and customer service are wise moves.